Bulletin Archive

January 31, 2016 Insert(PDF)
January 31, 2016 (PDF)
January 24, 2016 (PDF)
January 17, 2016 (PDF)
January 10, 2016 (PDF)
January 3, 2016 (PDF)

2015-2016 Schedule of Christmas & Feast Day Services (PDF)
December 27, 2015 (PDF)
December 20, 2015 (PDF)
December 13, 2015 (PDF)
December 6, 2015 (PDF)
November 29, 2015 (PDF)
November 22, 2015 (PDF)
November 15, 2015 (PDF)
November 8, 2015 (PDF)
November 1, 2015 (PDF)
October 25, 2015 (PDF)
October 18, 2015 (PDF)
October 11, 2015 inserts (PDF)
October 11, 2015 (PDF)
October 4, 2015 (PDF)
September 27 2015 (PDF)
September 20 2015 (PDF)
September 13 2015 (PDF)
September 6 2015 (PDF)





Byzantine Church Supplies
click on the picture to go to the site
Cathedral is Open For Visits



Wednesdays:

11:30 am to 3 pm


Saturdays:

2 pm to 4:30 pm

View the Vatican authorized full size replica of the Shroud of Turin
Venerate the relics of Blessed Bishop Martyr Mykola Charnetsky, CSsR and Blessed Sister Josaphata Hordashevska, SSMI
Experience the beauty of traditional Byzantine icons and mosaics



Divine Liturgies:




Saturday:

4:30 pm English


Sunday:

9 am Ukrainian
11 am English
Year of Mercy
On Sunday, February 28, 2016, ONE DIVINE LITURGY WILL BE CELEBRATED AT 10:00 AM which will be in celebration of "The Year of Mercy" inaugurated by Pope Francis. Please plan to attend this Divine Liturgy officiated by Metropolitan Stefan Soroka at the Ukrainian Catholic Cathedral of the Immaculate Conception, Philadelphia, PA.

About Cathedral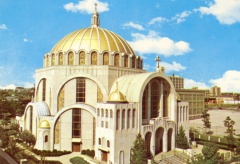 Located in the historic Northern Liberties district in Philadelphia, Pennsylvania was erected in 1966 through the effort of Ukrainian Catholics in America. This magnificent edifice, designed by Julian K. Jastremsky, replaced the old Cathedral Church which had been purchased in 1907 by Bishop Sotor Stephen Ortynsky, O.S.B.M., the first bishop of Ukrainian Catholics.
The present Cathedral, constructed to reflect authentic Byzantine architecture, is built in the same style as Hagia Sofia (St. Sophia) Cathedral in Constantinople (present day Istanbul, Turkey). It also mirrors the beauty and richness of the religious and cultural heritage of the Ukrainian people. Basic geometric forms were purposely and consistently used to develop the character of the building. Almost no ornamentation is needed, though the completion of the interior embellishments is an ongoing process which will continue over the years.